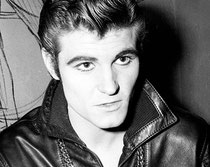 VINCE TAYLOR

Taylor's influence on two generations of rockers is without question, from Jim Morrison to Nik Turner and The Clash.
Yet he found little popularity in the UK and based himself in France.
In 1973 at a recording studio in Paris, Jim Sullivan and true guitar legend Link Wray helped Taylor on new versions of old classic like "Brand New Cadillac" and new songs.
Led Zeppelin closed their European Tour in Paris and Sullivan contacted Page about the sessions who jumped at the chance to play on tracks like "Mean Woman Blues" and "Move It".
It remain unreleased until after his death when a French fan club issued it.
Jimmy Page is credited as Juke Joint Jimmy on a CD released in 1993 to avoid legal problems.