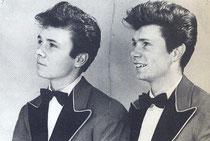 THE BROOK BROTHERS > THE BROOKS
Winchester, Hampshire duo who were hailed as the UK's answer to the Everly Brothers.
Between 1961 and 1963 they released 16 singles and one album for Pye, Jimmy played on one single "Trouble Is My Middle Name".
In 1964 they signed to Decca as The Brooks and released one single "Once In A While" which contained what many think as one of Jimmy's best session solo that was later resurrected for the first Led Zeppelin album.