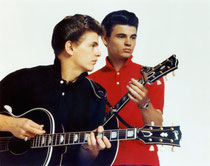 THE EVERLY BROTHERS

Although it has been written in many books and magazines that Jimmy recorded a session with the legendary duo it was never totally clear as they often worked with a bass player called Jamie Paige.
It turns out that it was Jimmy who played on their tribute to Swinging London album, along with The Hollies.
Information states that Jimmy is on "Somedy Help", "Kiss your Man Goodbye" and "I've Been Wrong Before".
Graham Nash's new biography confirms that Page, John Paul Jones and Reg Dwight (aka Elton John) all played on the Everly's Two Yanks in England.
He doesn't mention which songs.(thx to thozil66)