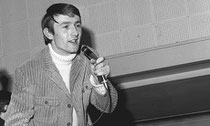 CRISPIAN ST. PETERS

Under the management team of Kenneth Pitt and Dave Nicolson, singer Peter Smith was taken form the Beat Formula Three and moulded into Crispian ST. Peters.
After two failed singles , Nicolson had a hard time getting the £120 needed to record a coverof We Five Americans' hit song "You Were On My Mind". 
Pitt eventually took a gamble but insisted that top session men were used to hurry the recording up.
Page was one of the musicians hired and the single became a hit, so for the follow up the same musicians were hired and it too was a hit.
ST. Peters then blew it proclaiming himself "better than Elvis Presley" and never had a hit again.
Page can also be heard on the album track "Without You", the remaining guitar work was by Alan Parker.