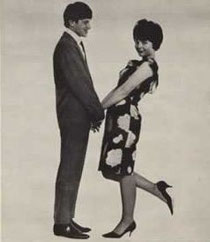 MARIANNE AND MIKE > FRIDAY BROWN
First duo formed by Marian Stockley (Friday Brown) and Mike Taylor.
They had two singles released on Decca susbsidiary label Vocalion Pop in 1964.
As Marian (Friday Brown) recalled:
"On the B side of 'Getting Nowhere' there are two guitarists backing up my voice...one was me...the other was a young session guy whom I'd had the pleasure of working with on the Marianne And Mike sessions and loads of folk/blues stuff we did for the Beeb in London...
His name was and still is Jimmy Page."