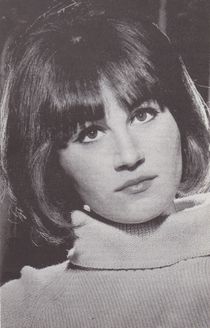 LOUISE CORDET
Louise Cordet was a phenomenon in English pop/rock for about two years, beginning when she reached number 13 on the charts with "I'm Just a Baby," released on English Decca in 1962.
In some ways, Cordet's career anticipated that of Marianne Faithfull, as it took her from a convent school into a world of pop stars, London night spots, and concert tours with the Beatles and Gerry & the Pacemakers.
Her final single was a cover version of the Motown tune, "Two Lovers".
"Two Lovers", originally composed by Smokey Robinson, featured Jimmy Page on guitar on Cordet's version.