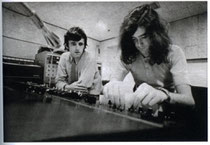 GLYN JOHNS

It is not surprising that Jimmy Page ended up working with engineer and producer Glyn Johns when you consider that Johns knew Page from childhood days in Epsom, Surrey.
Add to that the fact that Johns got into the businessthanks to Andrew Oldham and Shel Talmy.
Johns made a handful of singles during the sixties with session men as a way of learning about production, most of his singles featured Jim Sullivan when he was at Decca but when he moved to Immediate it was Page and John Paul Jones who backed him.
Johns became very successful and worked with The Rolling Stones, Chris Farlowe, Joe Cocker and Led Zeppelin, to name just a few.