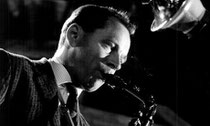 JOHN DANKWORTH
John Dankworth was an English jazz composer, saxophonist and clarinetist.
It's a trouble tracking down the sessions that Page played on, starting maybe in 1961 when it is thought that he attended the session that produced the single "African Waltz" but someone claims that Page played with him in 1965 and can be heard on the album "Zodiac Variations".
This sounds just about right as Page was at the time working on two other jazz sessions, firstly with Tubby Hayes and secondly at Pye with Bobby Graham.
Controversial