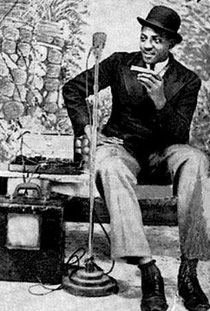 SONNY BOY WILLIAMSON II
Of the many obscure projects Jimmy Page was associated with prior to Led Zeppelin, one of the most notable was a studio session he recorded live alongside noted keyboardist Brian Auger, and famed bluesman, Sonny Boy Williamson.
The session took place at IBC Studios on January 28, 1965.
Those present at the session included, Jimmy Page on guitar, Brian Auger on organ, Ricky Brown on bass Mickey Waller on drums along with Joe Harriot & Alan Skidmore on saxophone, and Sonny Boy taking up vocal and harmonica.
While doing press for the documentary film "It Might Get Loud" Jimmy Page also recalled the session with Sonny Boy Williamson: "The one that was done live with The Yardbirds
hadn't come out. It was our manager who called me. I was a studio musician, at the time, and Sonny Boy was living in his flat. Somebody told me once that they went to the house and they heard Sonny Boy plucking a live chicken. I don't know how true that was. That didn't happen when I was there. Sonny Boy and myself rehearsed these neighbors in the
manager's flat and, by the time we got into the studio a couple days later, Sonny Boy had forgotten all of the arrangements of what we were going to do. It was cool. Good music comes out of that."
(Corbin, Pageia Obscura)
Looks like also that Page played on the original version of "I'm Trying to Make London My Home" on the album In Europe.