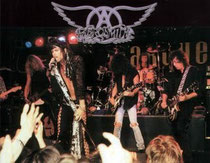 AEROSMITH
Always the "American Led Zeppelin" and very good at it, fronted by Mick Jagger clone Steve Tyler and Jimmy Page copiest Joe Perry, they were joined at the Donnington Monsters Of Rock Festival in August 1990 by the real Jimmy Page for a powerful rendition of "Train Kept A Rollin'" and the Aerosmith's classic "Walk This Way".
A few days later, Jimmy rejoined them for the second half of their set at the Marquee in London where they performed "Train Kept A Rollin'", two blues songs "Ain't Got You" and "Red House", the Yardbirds' "Think About It" and finally the Led Zeppelin masterpiece "Immigrant song".
On January 12, 1995, the remaining members of Led Zeppelin jammed with Aerosmith when Led Zeppelin was inducted into the Rock and Roll Hall of Fame. The three remaining members along with Jason Bonham as well as Charlie Jones and Michael Lee, (from Plant's solo band at the time) jammed with Aerosmith's Steven Tyler and Joe Perry and Neil Young.