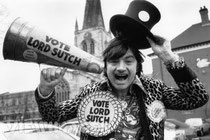 SCREAMING LORD SUTCH
In July 1964, Screaming Lord Sutch & the Savages on the Oriole label launched the single "She's Fallen In Love With A Monster Man"/"Bye, Bye Baby".
The Savages now have Tony Marsh on keyboards, Ricky Brown on bass and Carlo Little on drums, in addition to Lord Sutch and the vocal trio The Velvettes.
Taking part in these two recordings is Jimmy Page on guitar.
In October of the same year, Oriole release the single "Dracula's Daughter"/"Come Back Baby".
The band changes once again, now with Paul Dean on piano, Jeff Beck and Jimmy Page on guitar, Ron Harwood on bass and Pete Phillips on drums.
Six years later, amid the glorious success of Led Zeppelin, Jimmy Page takes the time to write, produce and even compose material for the famous Lord Sutch And Friends album.
With a gallery of stars to join the project.
Although he produced the whole album, Jimmy Page plays on "Wailing Sounds", "Flashing Lights", "Thumping Beat", "Union Jack Car", "Baby Come Back" and "Cause I Love You.