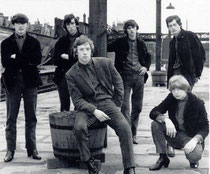 MICKEY FINN & THE BLUE MEN > THE MICKEY FINN
This band, which was named after the lead guitarist, Micky Waller aka "Mickey Finn", evolved out of a Shadows-like instrumental band called The Strangers.
After having heard about a drummer of the same name, with Cyril Davis & His R&B All Stars, Waller changed his surname to Finn. They called themselves "Mickey Finn & The Blue Men".
After a couple of months they switched to Oriole, and began recording with Jimmy Page on harmonica, after meeting him at Hackney Club 59.
Mid 1964, ex-Stranger, Mick Stannard replaced Burkitt on bass, and they became known as simply "The Mickey Finn".
They decided to call it a day in 1971.