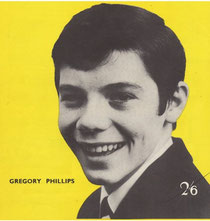 GREGORY PHILLIPS
A very minor artist of the early British Invasion, Phillips' main claim to fame is that he was the very first artist to cover a George Harrison composition, putting "Don't Bother Me" (which had appeared on With the Beatles, the Beatles' second album) on his third single.
Phillips was a television actor on a children's drama series, issuing three singles around 1963, which were effete even by the standards of the most lightweight British Invasion acts.
He had some good connections: his first single, "Angie," was written by Tom Springfield (a member of the Springfields and Dusty's brother), backed with a song ("Closer to Me") penned by the Bruvvers, the backing group for early British rock star Joe Brown.
His second single, "Everybody Knows," was written by Mitch Murray, who wrote big hits for Gerry and the Pacemakers and the Searchers.
Jimmy Page, then just starting as a session guitarist, played on some of the singles.
He did record a single for Immediate in 1965 that again had Page on guitar.
(Richie Unterberger)