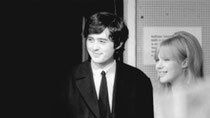 MARIANNE FAITHFULL

Quiet convent girl who was immersed into the world of sex & drugs & rock'n'roll thanks to Andrew Oldham and The Rolling Stones.
In her book "Faithfull" she mentioned that Jimmy had played on a number of sessions for her including "As Tears Go By" which was thought it was Jim Sullivan with Keith Richards.
Page also played on a number of tracks on her first two albums but not on her version of the Page/DeShannon song "Im My Time Of Dying".