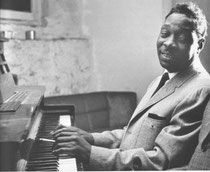 OTIS SPANN

Piano player full-time member of the Muddy Waters band, from 1952 to 1968 while periodically recording as a solo artist.
In May 1964 he came to London to record a total of 22 tracks for Decca, the original line-up was:
Otis Spann pno,vcl, harpsichord-1, Muddy Waters gtr, vcl-2, Eric Clapton gtr-3; Memphis Slim harpsichord-2; Ransom Knowling bass; Willie Smith drums.
Jimmy Page overdubbed harmonica, bass and guitar on "Keep Your Hand Out Of My Pocket" and guitar only on "Stirs Me Up".
Both songs were released on a single, "Stirs Me Up" also on the various artists Decca album Blues Now in 1965.
The original version of "Keep Your Hand Out Of My Pocket" on the album The Blues Of Otis Spann, Decca LK 4615 1964, does not have Page's overdubs.