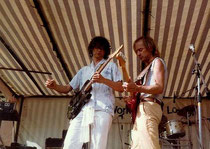 ROY HARPER

Cult folk star who joined the London's club scene in 1964.
After signing to Strike records where he cut one single he moved to CBS under the production of Shel Talmy who introduced him to Jimmy Page.
Harper and Page built up a friendship which later spread to the rest of Led Zeppelin who later recorded the song "Hats Off To (Roy) Harper".
Jimmy Page has played on six of his albums.
The track "The Same Old Rock" from the album Stormcock features Page under the name of Sir Flavius Mercurius.
In 1985 the album Whatever Happened To Jugula was released to critical acclaim.