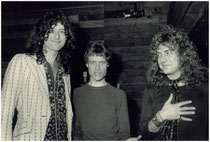 BO & PEEP
Bo was Kim Fowley, Peep was Andrew Loog Oldham.
Jimmy Page and John Paul Jones among backing musicians.
This is a real oddity that must date from a Rolling Stones recording session at the IBC Regent Studios in London from February 1964, when they were joined by Gene Pitney and a visiting Kim Fowley.
Under the direction of Mike Leander and the production of Oldham a number of unusual tracks were laid down.
Page was present with John Paul Jones working on demos for the Stones and they ended up playing on
"Rise Of The Brighton Surf".
Jimmy Page and John Paul Jones were also in the backing group in 1966 when Kim recorded Bo Diddley's "Who Do You Love" for famed Brit-Invasion record producer Mickie Most.