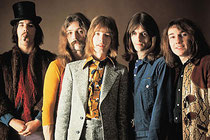 THE SAVOY BROWN BLUES BAND

Armed with a publishing deal with Immediate and signed to Mike Vernon's Purdah label in 1966, they recorded four tracks with vocalist Bruce Portius.
The sessions were arranged by Jimmy Page who played on "I tried", co-wrote "True Blue" which is credited to James Page Music and put together "Cold Blooded Woman" and their version of Willie Dixon's "I Can't Quit You Baby".
However, Page's expert Scott Swanson informs that Kim Simmonds has denied Page's involvement and that supposedly there is an early Immediate compilation which credits Page as arranger and/or publisher for a couple of the songs yet to be identified.