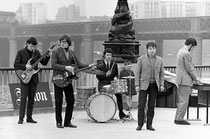 THEM

A degree of controversy has surrounded the recording sessions that took place when Van Morrison's R&B band came to the UK.
The band having recorded the songs found themselves replaced one by one by session musicians as the American producer Bert Berns and musical director Art Greenslade did not like what they did.
That's how Page ended up on various Them's songs.