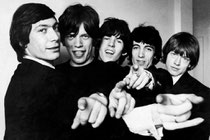 THE ROLLING STONES
There seems to be many references to the Stones than any other artist which is not surprising when Page had such close ties with Andrew Oldham, Decca and Immediate.
The first session with Page was in 1964 at the Kingsway Studios in London where he worked on an old Oldham track produced by a young John Paul Jones.
Later he worked on three demos: "Blue Turns To Gray", "Some Thing's Just Stick In Your Mind" and "Heart Of Stone".
The first remain unreleased while the second was later used by Vashti and like the third appeared on the 1975 album Metamorphosis.
In 1966 Page returned to the studio and with Art Greenslade worked on two backing tracks. "Out Of Time" which the Stones overdubbed but rejected until it reappeared on Metamorphosis and released as a single and an early version of "Paint It Black".
In 1972 Led Zeppelin's album "Houses Of The Holy" was completed and Page with Keith Harwood flew to Jamaica to help the Stones as glyn Jones was ill, Jagger and Richards decided to work on demos and with Page and Harwood they worked  on four tracks: "Jamaica", "Criss Cross", "Through The Lonely Nights" and "Tops".
The acoustic ballade "Through The Lonely Nights" was released on the B side of "It's Only Rock & Roll".
"Tops" was remixed in 1973 and eight years later appeared on the "Tattoo You" album.
In 1985 the Stones were in Paris working on the album "Dirty Work", Page joined them and played on two songs: "One Hit To The Body" and "Back To Zero".
Due to contractual reasons he was not credited for playing but received thanks in the sleeve notes.
Page's guitar on "One Hit.." remained intact.