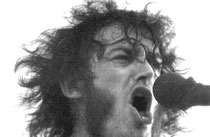 JOE COCKER
It was a sessionat the West Hampstead studios under the production of Mike Leander that Vance Arnold recorded is version of the Beatles song "I'll Cry Instead", backed by Jim Sullivan, Jimmy Page and Ivy League.
In September Decca released the single under the name Joe Cocker but he had to wait another four years for fame.
It was with another cover of Beatles song "With A Little Help From My Friends" that he took the music world by storm with what it is still considered the definitive version.
The album of the same name was recorded with a selection of well known musicians including Stevie Winwood, Albert Lee and Matthew Fisher and sessions greats like Clem Cattini, Madeline Bell and Jimmy Page who can be heard on "Bye Bye Blackbird", "Marjorine" and on "Just Like A Woman" and the title track.