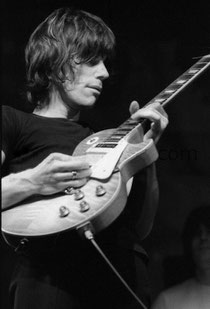 JEFF BECK
Both Beck and Page had been friends since the early sixties, they often played together at various gigs with people like Cyril Davies, they also worked on recording sessions with The All Stars and Screaming Lord Sutch.
It was with the Yardbirds that Beck made his mark as replacement guitarist to Clapton and later as a dual guitar attack with Page.
With Beck eventually out of the band he went solo under the direction of Mickie Most.
It seemed that Most had already cast Beck as a solo artist whilst still in the band and had set up a recording sessions at the IBC Studios in Langham Palace.
The sessions was attended by Nicky Hopkins, Keith Moon and John Entwistle of The Who, John Paul Jones and Jimmy Page.
The session produced "Beck's Bolero" a track that Page is quotated as saying "...wrote it, played on it, produced it...and I don't give a damn what he says".
"He" is Jeff Beck who often said that Page was just the rhythm guitarist.
The experience gave Page an idea to form a new supergroup featuring Beck, along with The Who's John Entwistle on bass and Keith Moon on drums.
However, the lack of a quality vocalist and contractual problems prevented the project from getting off the ground.
During this time, Entwistle suggested the name "Lead Zeppelin" for the first time, after Moon commented that the proceedings would take to the air like a lead balloon.