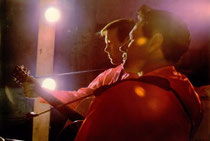 ROYD RIVERS & CLIFF AUNGIER

Cliff Aungier began playing the obligatory floor spots in folk clubs, when Bert Jansch, John Renbourn and Alexis Korner were on the circuit.
Later, with Gerry Lockran and Royd Rivers, Aungier started a folk and blues club at the Half Moon in Putney, London.
His 1965 debut album Wanderin' was arranged and produced by Jimmy Page and featured the work of harmonica player Royd Rivers.