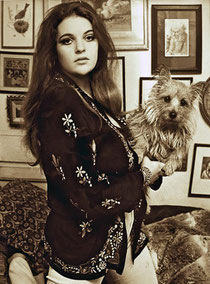 DANA GILLESPIE
Dana Gillespie was a music lover from an early age:
"I discovered the blues when I went to the American Folk Blues Festival in 1962 and also to see the Yardbirds at the Marquee Club.
I was in my early teens and hadn't heard anything like it before."
In 1964 she recorded her first single for Pye, with Donovan on guitar and became a regular on the folk circuit along with friends Donovan and David Bowie.
She recalls: "I was doing folk because I couldn't afford a band and I hadn't found my musical niche".
In those early years Dana got to know many of the top bands and people in the music business, appearing on Ready Steady Go and other cool TV shows of the era along with the legends of the British pop explosion.
In 1967, she made this album, Foolish Seasons, a Psychpop/Swinging London/Folkrock masterpiece.
The rare Donovan song, "You Just Gotta Know My Mind," which should have been a smash mod hit, includes the guitar of Jimmy Page.