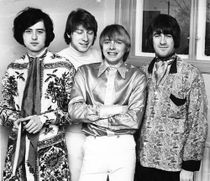 THE YARDBIRDS
In 1966, Page joined one of the most influential and up-and-coming British bands of his era, the Yardbirds.
At only 22 years old, he was already a respected session musician in London – in fact, the blues-leaning rock band had approached him two years earlier to replace then-guitarist Eric Clapton, but Page declined in loyalty to his pal.
A year later, when Clapton quit, the group solicited Page again, who in turn recommended another friend, Jeff Beck (because Page was raking in the cash sitting in with Decca Records artists, including the Rolling Stones).
Page finally joined the group in 1966 as a replacement for bassist Paul Samwell-Smith.
At his first show with the Yardbirds, at the Marquee Club in London, he played electric bass.
The venue was a significant one for the Yardbirds, as they'd held their first residency there in February 1964, and the show celebrated Page's hard-won presence.
Page kept up four-string duties for a bit before switching to twin lead guitar alongside Beck – until Beck left the tumultuous group too, and the Yardbirds became a quartet with Page at lone lead guitar.
It was with this lineup that they released their final album, 1967′s Little Games.
All three guitarists of the Yardbirds – Clapton, Page, Beck – would become guitar superstars.
However, the Yardbirds proved an especially strong catalyst for Page's future glory: When singer Keith Relf and drummer Jim McCarty left the quarreling group in 1968, Page rebranded the band as "the New Yardbirds" and recruited vocalist Robert Plant and drummer John Bonham.
Bassist John Paul Jones came into the fold soon after – the rest is story...