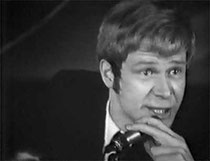 LONG JOHN BALDRY
Before becoming a balladere in 1967 with his massive hit "Let The Heartache Begin", Baldry was one of a number of musicians at the forefront of the British blues movement, first with Alexis Corner then Cyril Davies, Hoochie Coochie Men, Steampacket and Bluesology.
His band members have included both Rod Stewart and Elton John.
Early in '93 he was interviewed in ES magazine and spoke about his career, one gem he dropped was that Jimmy Page had played on his first album in his capacity as a session player.
However, Baldry's website does not credit Page for the first album, It says that Page played on Baldry's 2nd album.
(Scott Swanson)