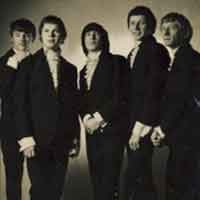 THE POETS
During the 1960s, The Poets were considered one of the most creative beat groups to have come out of Scotland.
The group started life playing rock'n'roll and blues covers, but also wrote some original compositions, all around the dawn of the British beat group boom, throughout 1962 and into 1963.
The group was founded by George Gallacher (vocals) and John Dawson (bass) who then drafted in Alan Weir on drums, and early guitar playing friend Stafford Hamilton.
Signed to Decca by Andrew Oldham who also produced their first three singles, Page plays guitar on the A side on their first release.