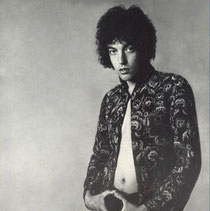 PHILAMORE LINCOLN
Philamore Lincoln was born Robert Cromwell Anson on October 20 1940 in Sherwood, Nottingham.
Anson started playing drums in his mid-teens before joining the RAF, where he played in a band that included alto saxophonist Trevor Watts (Spontaneous Music Ensemble and Amalgam).
At this point Anson began calling himself Phil Kinorra in honour of his three drum idols: Phil Seamen (Phil), Tony Kinsey (Kin) and Bobby Orr (Orra).
In the autumn of 1967 Robert Anson re-invented himself as Philamore Lincoln.
Under this name a single was released "Running By the River" on the NEMS label.
NEMS collapsed in 1969, and a number of its acts, including Philamore Lincoln, were transferred to CBS who had distributed NEMS product.
As a result, Lincoln visited a London studio to record an album with producer James Wilder and engineers Glyn Johns and his younger brother Andy Johns.
The album was only released in the US on the Epic label in 1970. 
Jimmy Page contributed a guitar solo to the track "You're the One" and former Yardbirds' member Chris Dreja took the back cover photo as well as for The Yardbirds releases that were on US Epic.