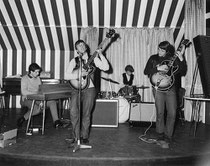 THE AUTHENTICS
Hailing from Richmond The Authentics were often to be found supporting the Yardbirds, in fact their vocalist Mick O'Neil occasionally performed with them.
The only other known member of the band is John Williams of Maureeny Wishfull fame.
In 1965 they recorded two songs for Giorgio Gomelsky who finally released the tapes in 1990.
Jimmy played guitar on both tracks and that is all that remains known about them.