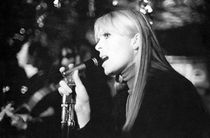 NICO

German actress, model and singer who after working in France came to England in 1965 and met with Andrew Oldham.
Oldham together with Page wrote her a song called "The Last Mile" which Page played on, produced, arranged and conducted.
The Gordon Lightfoot song "I'm Not Saying" was used as the A side which Oldham produced with Page playing guitar.