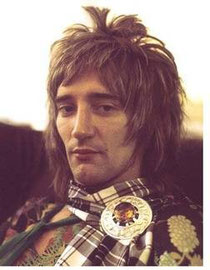 ROD STEWART

Prior to superstar status after "Sailing" and "Do You Think I'm Sexy" in the late '70s, Stewart had been with Jimmy Powell, Long John Baldry, Steampacket, Jeff Beck Group and of course The Faces.
His first single was for Decca in 1964 with John Paul Jones on bass, Clem Cattini on drums, Nicky Hopkins on keyboards and Jim Sullivan on guitar, for the cover of "Good Morning Little Schoolgirl".
The blues number on the B side has Sullivan backed by Page on rhythm guitar.