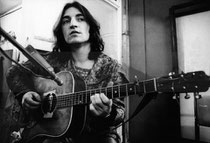 MIKE HERON
Jimmy Page had turned up at a session being produced by Joe Boyd with Heron and drummer Dave Mattacks who worked with Page years later on Death Wish II in 1981.
After a while Jimmy was invited to play guitar on the track "Lady Wonder".
The track was placed on the B side of the single "Call Me Diamond" which was released in Germany before the UK.