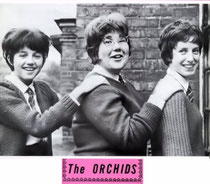 THE ORCHIDS
While the female singers and girl groups on the British recording scene of the 1960s were typically in their twenties, THE ORCHIDS of Coventry - Georgina Oliver, Pamela Jarman and Valerie Jones - were 14-year-old schoolgirls when they made their first record.
Thus, they are contenders for the title of Britain's only true girl group.
Contracted to Decca and assigned in the studio to producer Shel Talmy, their first appearance on vinyl was as backing vocalists for "School Is In" by Johnny B. Great and the Goodmen.
They recorded a total of three singles for Decca, a couple of them, including "Love Hit Me" written by Shel talmy, feature Page on guitar.