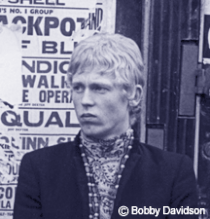 ACE KEFFORD
Chris "Ace" Kefford played a major part in forming the Move in 1966 and was their bass guitarist until 1968.
He shared lead vocals on some of the Move's records including the hit singles "Night Of Fear" and "I Can Hear The Grass Grow" while his on-stage presence and charisma contributed much to the band's early success.
Sanctuary Records Ltd. released a CD compilation of rare Ace Kefford recordings in October of 2003.
The "lost" Ace Kefford album was originally recorded with future T-Rex and David Bowie producer Tony Visconti who had previously worked with The Move as orchestral arranger on their "Flowers In The Rain" hit single.
While Visconti chose most of the songs to be recorded including the excellent "Oh Girl" (an obvious choice for a single) and Simon & Garfunkel's "Save The Life Of My Child" which features guitar by Jimmy Page.