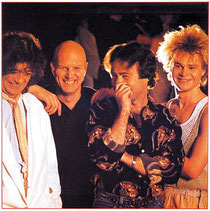 THE FIRM
Anticipation was quite high when it was announced in 1984 that Paul Rodgers, the past voice of Bad Company, and Jimmy Page, Led Zeppelin's former guitarist, were creating a "supergroup" called the Firm.
However, when the band's self-titled debut was actually released in 1985, it received a critical drubbing and was all but ignored by the record-buying public.
Page and Rodgers were joined on The Firm by veteran drummer Chris Slade and Roy Harper-alumn Tony Franklin.
In 1986 they released a second album, better than the first but after another tour they split.