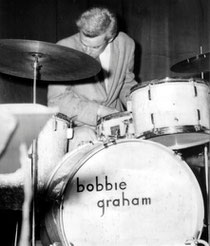 BOBBY GRAHAM
UK's greatest session drummer, formerly with The Outlaws, turned session player in 1961.
His name appears many times and he also played on Page's solo single.
Between 1963 and 1966 they built up a friendship and wrote many songs toghether.
(See also London All Stars)
They released two singles, the first features them playing all instruments with the B side co-written by them.
The second was co-written and recorded with Nick Welsh while the B side again was by them on their own.
From around the same time they recorded and co-wrote two more songs which remain on acetate only and are in Graham's private collection.