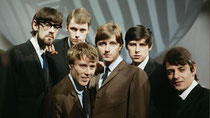 THE NASHVILLE TEENS
The Nashville Teens were a British band and pretty good too.
They were Jerry Lee Lewis's backing band on his excellent album "Live At The Star Club".
Mickie Most signed them up with Decca and put them in the studio to record John D. Loudermilk's "Tobacco Road".
He used Page to beef up the opening chords, the memorable string-bending guitar riff that opens the song and keep the rhythm going.
Page also played on the B side.
The next single "Goggle Eye" also features Page.