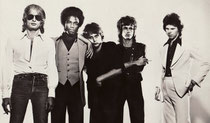 DETECTIVE
American rock band fronted by English actor/singer Michael Des Barres formed Detective in 1975.
The band ended up being signed to Led Zeppelin's own label Swan Song Records, after Michael invited Jimmy Page to a Detective rehearsal in the summer of 1975.
After spending a long time in the studio, their first, self-titled album, was released in April 1977.
The second album, It Takes One To Know One, followed in November the same year, and the band went on the road as support for Kiss and Blue Oyster Cult.
A promotional live album, Live From The Atlantic Studios, was released to radio stations in March 1978.
Detective disbanded in the fall of 1978, before they had finished their third album.
Jimmy Page produced four tracks for the first album, "Got Enough Love", "Grim Reaper", "Ain't None Of Your Business" and "One More Heartache" using the name Jimmy Robinson.
J. Page's expert Scott Swanson, informs however that band's guitarist (Michael Monarch) denied Page's involvement in a 2001 interview.