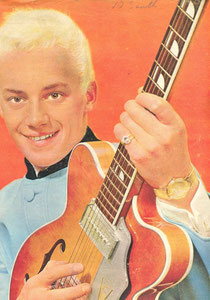 HEINZ
From Page's official:
"Digging My Potatoes" by Heinz and the Wild Boys - a song I'd known by Big Bill Broonzy and Lonnie Donegan.
I had done a number of sessions for Joe Meek and this is one I particularly remember as he'd asked me to overdub a solo on this track.
All the recordings I did with Joe Meek were in his now legendary home studio at 304 Holloway Road.
Joe was a sonic visionary and pioneered the use of limiters/compressors and echo in a radical way during his illustrious career.