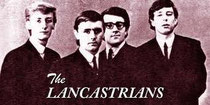 THE LANCASTRIANS
In 1964 they were introduced to Shel Talmy, a record producer involved with The Kinks, The Small Faces, The Who, The Ivy League and was responsible for helping the British Invasion of America.
Shel was their A & R man and produced all their six singles.
He also brought in Jimmy Page to session with them on 'Was She Tall' and 'The World Keeps Going Round' - NOT -''We'll Sing In The Sunshine'' as specified by some people.