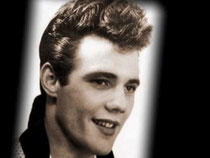 Jackie had an interesting and varied repertoire and was a man who clearly loved an old standard.
With his prodigious talent, larger-than-life personality, and engaging, earthy humour, Jackie Lynton really should have been a massive star.
A powerful and charismatic live performer, back in Pop's golden era he was a huge favourite on the one-nighters' circuit where he'd carved out a reputation for his stagecraft and wild vocalisings.
Jackie's 60s output remains a memorable, eclectic body of work.
Although the Jury backed him on a couple of sides, he usually found himself working with the leading session muso's of the era - guys like Big Jim Sullivan, Joe Moretti, and Jimmy Page (guitars), Herbie Flowers (bass) and either Clem Cattini or Bobbie Graham (drums) - plus each different session's producer/arranger (usually either Tony Hatch or Les Reed) on piano.
Jackie reckons that was the record company's idea, to do a Beatles song.
"I didn't like it ....... it wasn't really up to much ...it wasn't me".
Nonetheless this remains a highly-collectable artefact, being not only one of the rarest Beatles' covers, but also featuring a fine solo from Jimmy Page.