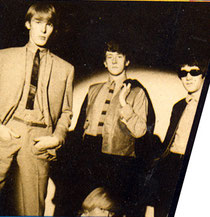 THE SNEEKERS

Whilst Shel Talmy was working with The Kinks, he signed this band up to cover two tracks that he had done with them for their first album and gave Page an opportunity to breath life into a couple of Ray Davies' songs.
In a way The Kinks couldn't.
In fact the inspired fuzz guitar work of Page on "Bald Headed Woman" so impressed Pete Townshend that he used it as a model for his own style and with The Who, Talmy and Page recorded his own version.