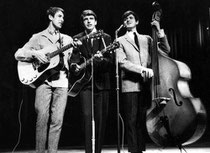 THE BACHELORS
Prolific Irish trio who notched up no less than 12 hits in the period 1963/67.
Jimmy was credited on the sleeve notes for his guitar solo on the song "Lovely Kravezit" a track dedicated to Dean Martin's secretary in the movie The Silencers.
The guitar solo must rate as the worst ever laid down in history of music with ehe exception of the Neil Innes classic on the Bonzo Dog Band's brilliant "Canyons On Your Mind".