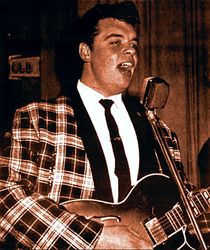 KINGSIZE TAYLOR
He had a powerhouse voice that was lacking in those first generation English rockers.
A perfect voice for wringing the bollocks out of any hardcore American rock'n'roll song.
Simply, he was the best English rock'n'roll singer there has ever been.
He had an original voice that oozed personality and commitment and, most pertinently, he was a stylist who imbued every song he performed with an urgent authority.
He was also the first rock'n'roll singer in that hotbed of beat groups, Liverpool.
Later, his band The Dominoes endured a ferocious regime of rehearsals during their Star Club days in Hamburg that would have taxed The Magic Band under Captain Beefheart.
By 1965 he travelled to London and made some records down there.
Jimmy Page played lead guitar on 'Somebody's Always Trying' and 'Looking For My Baby', and a couple of other tracks that they did in that session.
Clem Cattini on drums, a forty-piece London Symphony Orchestra, and the Ladybirds.
Peter Green played the second lead guitar, but it was Jimmy who did that terrific solo on 'Baby'.
They recorded them at the New Olympic Studios and did a couple of others later.