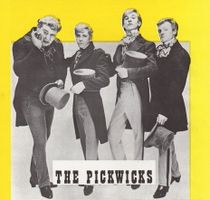 THE PICKWICKS
Started life as Tony Martin And The Echo Four, before Larry Page signed them in March 1964 and changed their name. 
Initially their stage gear was top hats and tails a' la 'Pickwick Papers' , but when they couldn't find anyone to clean them, they quickly gave the image up! 
They cut 3 fine singles of tough Beat/R&B, with Jimmy Page playing lead guitar on at least the first 2 of them. 'Apple Blossom Time' is a cover of the old standard with a tough backing but fairly weak vocals, whilst the B-side has a great Page guitar solo.
The A-side of the second single was a ballad, but the B-side was described as '...throbbing R&B...' 'I Took My Baby Home' is an early Ray Davies song, originally released as the B-side of 'Long Tall Sally', The Kinks first single.
They eventually split up in April 1965 with drummer Jenkins going on to join The Ray King Soul Pact / Band.
But Dean Nelson adds - " Of all the bands that came out of Coventry in the 60's it's the Pickwicks that are the most celebrated for their superb freakbeat music and unforgettable image.
With top hats, frock coats and even stick-on whiskers they rocked the likes of the Orchid Ballroom with a selection of beat classics.
Their record Little By little is valued at £60 in mint condition, mainly because most people believe Jimmy Page of Led Zeppelin fame 'sessioned' on it.
In fact it was a guitarist named Harry Friar."
Source Broadgate Gnome / Dean Nelson
Controversial.