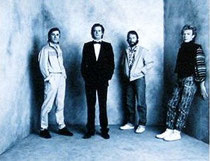 BOX OF FROGS
It was in 1983 that the remaining Yardbirds members reformed to play the Marquee as Box Of Frogs.
They then signed to Epic Records and released an album that featured Beck along with Rory Gallagher.
In 1986 they released a second album that this time featured Jimmy Page playing on the track "Asylum".