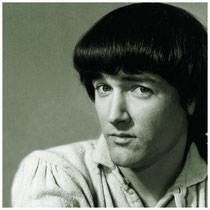 P.J. PROBY
At the end of 1963, Proby was introducted by Jackie DeShannon to the important English producer Jack Good who took him to England.
Brian Epstein became interested in him and became his manager.
In England the career of P.J. Proby was an instant success.
His first single, "Hold Me", released in May 1964, features Jimmy Page on guitar.
Page played also on his next release, "Together" and "Sweat & Tender Romance," double composition of Carter-Lewis.
They will then work together in 1968 in the single "The Day Lorraine Came Down" with "Mery Hoppkins Never Had Days Like These" released by Liberty label in August 1968.
Declaring Proby bankruptcy in 1969, Jimmy Page came again to help in his album, "Three Week Hero", album loved by collectors, not much for the work of Proby but for the fact that Jimmy Page brought with him his new friends, John Paul Jones, Robert Plant and John Bonham to record it.
The tracks are "Today I Killed A Man", the title song "Three Week Hero" and the medley, "It's So Hard to Be a Nigger"/"Jim's Blues"/"George Wallace Is Rollin' In This Mornin '".