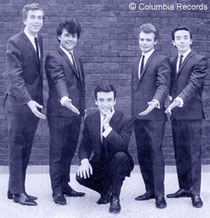 PAT WAYNE & THE BEACHCOMBERS
This band from Birmingham were very well known locally in the early 1960s.
Along with Keith Powell's Valets and Mike Sheridan's Nightriders, Pat Wayne and The Beachcombers were amongst the city's top live acts at that time.
Although on Jimmy Page's official the single "Roll Over Beethoven" is listed in the Sessions Discography, according to Geoff Roberts this was not the case.
"Jimmy Page never had anything to do with the band" says Geoff."
"I played on Roll Over Beethoven and in fact created the guitar riff by double-tracking, the second track slightly out of tune with the first which gave the recording a distinctive sound.
We actually recorded it before the Beatles and if you listen to their version there are similarities but they also used the same studio and probably the same engineers so its not surprising".
Controversial