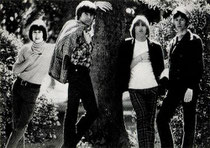 THE PRIMITIVES
The Primitives gave a more accurate indication of the group's brand of long- haired , Pretty Things-styled driving R&B under their new name, they signed to Pye in autumn 1964.
At this juncture, The Primitives' line-up consisted of lead vocalist Jay Roberts (real name Jeffrey Farthing), Geoff Eaton (aka Geoff Tindall) on lead guitar, the curiously-named John E. Soul (rhythm guitar, harmonica), RogerJames (bass) and Mike Wilding (drums).
The debut Primitives single, an archetypal British R&B assault on Sonny Boy Williamson's "Help Me" backed by the similarly earthy group original "Let Them Tell", appeared in 1964.
"Help Me" failed to click, as did the even more frenetic Eaton/Tindall composition "You Said" (b/w "How Do You Feel"), released a couple of months later in January 1965 boasting the input of Jimmy Page.