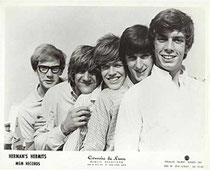 HERMAN'S HERMITS
All of the musical history books always seem to play up the fact that the Jimmy Page version of the Yardbirds eventually evolved into Led Zeppelin …
but, infact, Page and John Paul jones had been working with Herman's Hermits  for years prior to the new venture.
Peter Noone recalls that Jimmy Page only played on a couple of sessions ... "Silhouettes" and "Wonderful World". 
John Paul Jones was the arranger and bass player on a load of stuff and even joined the band for one short German tour.
Nonetheless it was brought to general attention that the on-going guitar riff that runs throughout Herman's Hermits' version of "Silhouettes" was actually performed by British Studio Guitar Whiz Vic Flick. 
Him and Peter both confirmed this new piece of information.
Then again, according to Keith Hopwood and Karl Green, looks like Derek Leckenby replaced Flick in the studio and played the signature riff under Most's direction.
Certainly memories fade after 40+ years ...